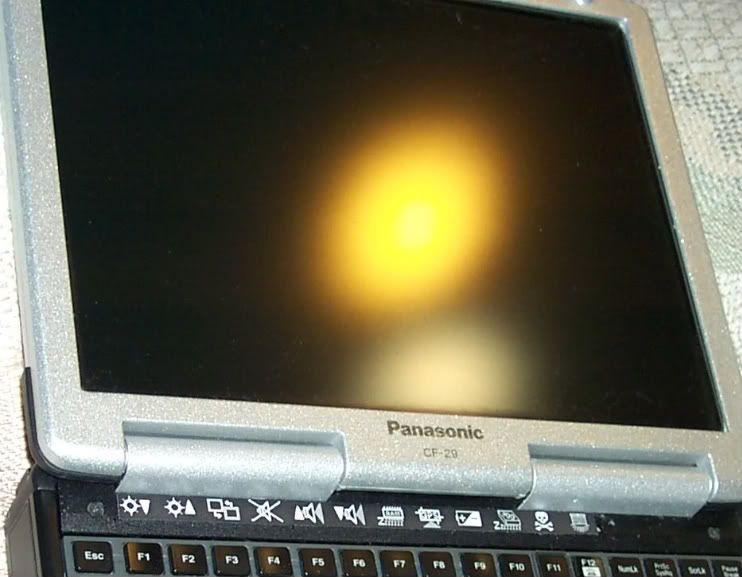 Correct Panasonic's Mistake!
If you upgrade your keyboard to an Emissive Keyboard you will most likely lose your hot key markings. Even if you get one of the rare emissive keyboards that have these markings or even a standard keyboard, they are quite small and hard to see in low-light.
I have the perfect solution, a keyboard label printed on high quality, high contrast, weather resistant material. These labels are original artwork and should be intrinsically understandable by anyone familiar with the hot key functions of the CF-29. They should be stuck to the bezel directly above the top keys. I have also included a GPS marked key for those that have this function or may add it. Using the shortcut command native to Windows use this previously undefined key to start your favorite GPS mapping software quickly with just one button.
Frankly, I think that these labels look pretty cool and I'm happy with the way they came out! You can't make two labels for cheaper, using the quality special materials I have, for less money!

Labels are only $2.90 (USD) each mailed CONUS for the first label and $2.00 each for all other labels. Sorry, but if you remove your keyboard the screws will damage your label, but at this cheap price, order two. Vendors, orders over 10 labels receive a special discount! Inquire about overseas mailing cost.
I mail within 3 business days of receiving your funds, usually much sooner, and will take Pal-Pal. Thanks!
_________________
I am what I am, somebody has to be.
Call me for free from anywhere in the USA from my homepage!
http://www.azrial.com/
CF-31JEGAX1M Mk2 Intel i5-2520M 2.50 GHz, Win7x64 & Ubuntu x64 14.04LTS Dual Boot, 16GB RAM, Samsung 250GB SSD, 2x64GB USB FD, 64GB SDHC, GOBI 4000, BUGPS, IBM AC/DC Supply #22P9003